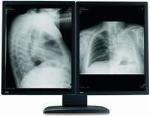 Barco
Coronis 5MP-2H LED w/MXRT-6700 Graphics Controller (Dual Head)
Regular price
$19,998.00
$0.00
Equipped with high-bright LED backlights, Barco's Coronis 5MP LED renders more JNDs (Just Noticeable Differences) to help you see more shades of gray. Additionally, Per Pixel Uniformity ensures every pixel is DICOM-compliant at all times, which increases contrast to noise ratio. Subtle details become more noticeable more quickly, resulting in reduced windowing and leveling time. 
Unrivaled brightness 
Coronis 5MP LED offers a high calibrated luminance – 600 cd/m² – to increase detection of the smallest details. Additionally, with the 'hot light' I-Luminate button you can temporarily boost the display brightness, allowing inspection of subtle details or comparison of digital exams with film-based priors.
Worry-free DICOM compliance
Barco's Coronis 5MP LED is bundled with MediCal QAWeb for automated calibration and QA, ensuring continuous diagnostic quality and maximum uptime of your workstation. MediCal QAWeb allows you to continue working while automated QA checks are being executed and enables remote, centralized image quality management.
High return on investment
Barco's LED backlights are as low in power consumption as they are high in brightness. They are mercury-free, produce less heat, and last longer, providing a high return on your investment. The cool-running display electronics produce bright light more efficiently, requiring less cooling and reducing the overall operational costs for the hospital.